Gaza
Details

Category: Gaza
Published on Tuesday, 23 December 2014 05:50
Written by Reuters
ynet, 19.12.14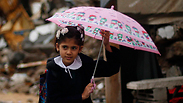 of the total, only $100 million or so has been received, according to UN and other officials. While the EU and the United States have accelerated some funding that was already in the pipeline, very few new pledges have come to fruition.

Read more: Only 2% of $5.4 billion pledged for Gaza actually delivered
Details

Category: Gaza
Published on Monday, 22 December 2014 11:24
Written by Amos Harel
Haaretz, 20.12.14
The present situation in the Strip is not really that different from the circumstances that triggered last summer's war.
Today, most Israeli security agencies agree that the main reason for last summer's deterioration can be found in the July 2013 crisis between Hamas and the group of generals who took power in Egypt. Since that time, Cairo has cut the air supply to the Gaza Strip by systematically demolishing the smuggling tunnels from Sinai and closing the Rafah crossing. Along with the Israeli closure, the Gazans found themselves in an ever-tightening siege.
Details

Category: Gaza
Published on Friday, 19 December 2014 09:05
Written by Monica Macchi
10 dic 2014
L'amore tra moglie e marito ai tempi dell'attacco israeliano. A Gaza l'intimità distrutta si trasforma in palloncini che volano ovunque. Due giovanissimi registi hanno messo in scena la vita oltre la distruzione.
  – Associazione per i Diritti Umani
Roma, 10 dicembre 2013, Nena News – 
"Cosa accade alla comunicazione
nel laboratorio emotivo della guerra ?
Details

Category: Gaza
Published on Tuesday, 16 December 2014 09:47
Written by Nathan Thrall
London Review of Books, 21 August 2014
The 21 November 2012 ceasefire that ended an eight-day-long exchange of Gazan rocket fire and Israeli aerial bombardment was never implemented. It stipulated that all Palestinian factions in Gaza would stop hostilities against Israel, that Israel would end attacks against Gaza by land, sea and air – including the 'targeting of individuals' (assassinations, typically by drone-fired missile) – and that the closure of Gaza would essentially end as a result of Israel's 'opening the crossings and facilitating the movements of people and transfer of goods, and refraining from restricting residents' free movements and targeting residents in border areas'. An additional clause noted that 'other matters as may be requested shall be addressed,' a reference to private commitments by Egypt and the US to help thwart weapons smuggling into Gaza, though Hamas has denied this interpretation of the clause.
Details

Category: Gaza
Published on Monday, 15 December 2014 04:24
Written by Mehdi Hasan
The Huffington Post, 22/07/2014
"The tragedy is that Hamas... are stopping civilians leaving from the areas of fighting."

Whether or not Hamas is indeed "stopping civilians" from leaving "the areas of fighting", where are those Palestinian civilians in Gaza supposed to go? Which part of their "prison camp", to quote David Cameron in 2010, can they legitimately and safely take shelter in, given Israel is bombing houses, schools and mosques on the grounds that they're all allegedly being used by Hamas to hide their rockets? To quote the inimitable Jon Stewart, of the Daily Show: "Evacuate to where? Have you f**king seen Gaza? Israel blocked this border, Egypt blocked this border. What, are they supposed to swim for it?"
Read more: Nine Things the Israeli Ambassador Conveniently Didn't Say About Gaza