Details

Written by

La Coordination nationale de l'UJFP

Category: UJFP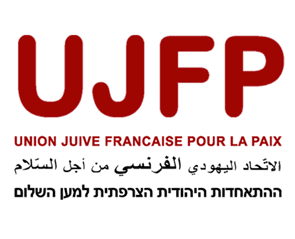 22 mars 2022
La commémoration a pris, cette année, une tournure particulièrement politique et l'invitation du président d'Israël comme « porte-parole légitime des juifs du monde entier » constitue une assimilation des Français juifs à l'État d'Israël, ce qui ne peut qu'augmenter l'antisémitisme en France.
Details

Written by

Henri Goldman

Category: UPJB
UJFP, 30 août 2021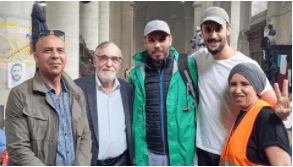 photo prise le 11/7 à l'église du Béguinage. Ahmed est le premier à gauche, le rabbin est à côté de lui.
Ahmed reprend la parole. Il parle de l'Europe et des événements douloureux qui s'y sont déroulés dans le passé. Il évoque ses « cousins juifs » qui ont subi des épreuves dont il dit ne rien ignorer.
Details

Written by

Paola Canarutto

Category: Rete-ECO
il Manifesto, 3 marzo 2021
Ci ha lasciati il 2 marzo 2021 il nostro Giorgio Forti. Lui, che da ragazzo aveva conosciuto le leggi razziali e preso parte alla Resistenza, è stato una colonna del nostro sparuto gruppo di ebrei che si oppongono all'occupazione militare israeliana, fondato da Sveva Haertter nell'autunno del 2000, con le proteste e l'intifada seguite alla 'passeggiata' di Sharon sulla Spianata delle Moschee, a Gerusalemme.
Details

Written by

Arthur Goodman

Category: EJJP
05 July 2021
Israel is a very flawed democracy in that it maintains a systematic policy of racist discrimination against the 20% of its citizens who are Palestinian. Since 1967, it has also been illegally occupying and settling the 22% of British Mandate Palestine that it did not conquer in 1948. It has created an apartheid system there, favouring its own settlers at the expense of the indigenous Palestinians.
Details

Written by

EJJP

Category: EJJP

European Jews for a Just Peace (EJJP) is a federation of 12 European Jewish peace groups campaigning in 9 countries throughout Europe against the occupation of the Palestinian Territories by Israel, and against all forms of racism, antisemitism and Islamophobia domestically. EJJP further engages in debates within Jewish communities across Europe on the Israeli Palestinian conflict, and advocates extensively on the European level on issues of Palestinian rights, the Israeli occupation, and on the distinction between freedom of speech on Israel and antisemitism. EJJP was founded in 2002 out of concern for Israelis, Palestinians, and the Jewish communities in Europe.