Details

Written by

Henri Goldman

Category: UPJB
UJFP, 30 août 2021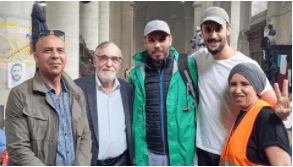 photo prise le 11/7 à l'église du Béguinage. Ahmed est le premier à gauche, le rabbin est à côté de lui.
Ahmed reprend la parole. Il parle de l'Europe et des événements douloureux qui s'y sont déroulés dans le passé. Il évoque ses « cousins juifs » qui ont subi des épreuves dont il dit ne rien ignorer.
Details

Written by

UPJB, UJFP

Category: UPJB
As part of International Day against Islamophobia on December 12th
Amsterdam, Barcelona, Brussels, London, Madrid, Paris
Common statement by Belgian Union of Progressive Jews (UPJB) and French Jewish Peace Union (UJFP)
Like all citizens deeply attached to justice and humanity, we have been stunned and appalled at the mass slaughters that hit Paris on November 13th and whose ensuing shockwave crossed French borders.
Emotion must not favor discriminatory measures against an « enemy » that has been designated since 2001 and the so-called « clash of civilizations ».