Details

Written by

.

Category: Een Andere Joodse Stem
30 October 2018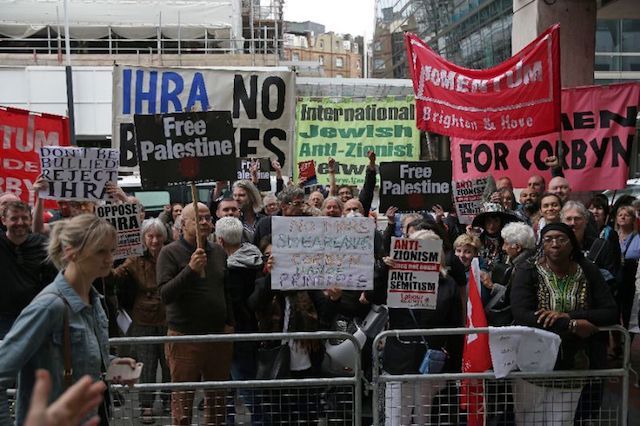 As Jewish European organizations committed to the elimination of anti-Semitism, xenophobia, Islamophobia and all other forms of racism, we would like to voice our deepest concern regarding the organization of a conference in Brussels (6-7 November 2018), backed by the Israeli government, aiming to label legitimate criticism and protest against Israeli governmental policies as anti-Semitism. We ask the European institutions, including the European Commission, the Fundamental Rights Agency (FRA), and members of the European Parliament, and to shun attempts by the Israeli government to use false allegation of anti-Semitism to limit and criminalize work by civil society organizations, including those of diverse Jewish communities of Europe, to pursue peace and justice in Israel/Palestine.
Read more: Public statement by Jewish European organizations on the definition and elimination of anti-Semitism
Details

Written by

Super User

Category: Rete-ECO
 The Italian network  of Jews against the occupation (Rete Ebrei Contro l'Occupazione) wishes to express its solidarity with Jeremy Corbyn and his colleagues in Labour: they have chosen to defend the rights of the Palestinian people and freedom of expression in the UK. In so doing, they oppose the pro-Israel lobby in the UK, which tries to  marginalise and dismiss those who condemn Israel's actions. We agree, with Corbyn and his colleagues, that the Governments of Israel, since 1948-49 up to now, and especially since the illegal occupation of the West Bank from 1968 have committed against the Palestinians, whether citizens of Israel or inhabitants of the occupied West Bank, Palestinian Territory  very serious crimes against human and civil rights.
Dr Paola Canarutto, president of ECO
September, 2018
Details

Written by

JfJfP, EJJP

Category: Jews for Justice for Palestinians
18.07.2018
The Gaza Strip is the world's largest open-air prison. Two million people live in atrocious conditions under Israeli and Egyptian blockade by land, air and sea.
Details

Written by

Rete-ECO

Category: Rete-ECO
6 settembre 2018
Con la demolizione del villaggio beduino di Khan al Ahmar Israele compie un atto gravissimo di violazione dei diritti umani, contro tutte le regole di convivenza civile che sono alla base della convivenza di persone e nazioni. La Rete Ebrei Contro l'Occupazione (ECO) condanna senza appello questo comportamento razzista e ultranazionalista del governo israeliano, che ricorda comportamenti fascisti e crimini del colonialismo.
per la Rete-ECO, Paola Canarutto
Details

Written by

Giorgio Forti

Category: Rete-ECO
19 luglio 2018
https://blogs.mediapart.fr/forti-giorgio/blog/130718/etat-national-liberte-et-identite-personnelledemocratie
Illustre Onorevole Mogherini, I miei amici ed io siamo del tutto solidali con la Sua presa di posizione a nome della nostra Comunità Europea contro la politica dello Stato di Israele nei confronti del popolo Palestinese, oggetto dell'oppressione e disprezzo dello Stato che si definisce lo Stato Ebraico ormai da oltre 50 anni. Ci teniamo a farLe sapere che, insieme ai nostri concittadini italiani di molte ONG che operano attivamente perchè siano riconosciuti i diritti umani e politici al Popolo Palestinese, diritti che Giustizia esige, pensiamo che non esista altro modo di realizzare la pace nel vicino e  medio Oriente, che con il garantire i diritti umani e politici al Popolo Palestinese
Subcategories