Details

Written by

David Rosenberg

Category: Dissidenza ebraica
Jews for Justice for Palestinians, April 20th, 2017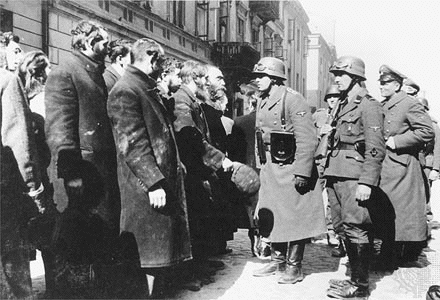 One of the most famous pictures of the Holocaust. German storm troopers force Warsaw ghetto dwellers of all ages to move, hands up, during the Warsaw Ghetto Uprising, April 1943
"We fought for dignity and freedom, not for territory, not for a national identity"
Rebel Notes
April 18, 2017
Before you go to sleep tonight, take a few moments to reflect on what happened in Warsaw in the early hours of 19 April 1943. That was when troops and tanks of the most powerfully equipped army in the world – the German Nazis – entered the Warsaw Ghetto to burn the ghetto buildings to the ground, massacre the remaining inhabitants, or deport them to death camps. At one time the ghetto, comprising just 1.3 square miles, had held more than 400,000 people – almost all Jews, but also several hundred Roma Gypsies. By April 1943 the inhabitants still numbered 30-40,000 – starved, diseased, beaten – but still holding on to life, just.
Details

Written by

Richard Falk

Category: Dissidenza ebraica
ZNet, May 7, 2017
More significant, by far, than my experience are determined, well-financed efforts to punish the UN for its efforts to call attention to Israeli violations of human rights and international law, to criminalize participation in the BDS campaign, and to redefine and deploy anti-Semitism so that its disavowal and prevention extends to anti-Zionism and even to academic and analytic criticism of Israel's policies and practices, which is how I am situated within this expanding zone of opprobrium.
Details

Written by

Arthur Goodman

Category: EJJP
Gianni Infantino, President                                                               26 April 2017 
Fatma Samoura, General Secretary
Tokyo Sexwale, Chair, Monitoring Committee Israel-Palestine
Dear Mr. Infantino, Ms. Samoura and Mr. Sexwale,
We are writing again about the six Israeli football teams based in illegal settlements in the Occupied Palestinian Territory. FIFA has allowed this situation to continue for nearly three years, despite the fact that it clearly contravenes FIFA's own rules because the Palestinian Football Association has emphatically not agreed to those teams operating it its territory.
Details

Written by

Richard Silverstein

Category: Dissidenza ebraica
Tikun Olam, April 15, 2017
The Israeli chief Sephardic rabbi, Yitzhak Yosef,  told a gathering of followers that non-Jews should be expelled from Israel [....] The only exception, he said, would be in the cases of non-Jews who accepted the seven Noahide laws.
Read more: Israeli Chief Rabbis Endorse Ethnic Cleansing, Palestinian Servitude
Details

Written by

Judy Maltz

Category: Dissidenza ebraica
Haaretz, Apr. 21, 2017
Americans for Peace Now cancels its annual summer trip: 'We are punished because we believe that the West Bank is not Israel'
 

"Now, because of a law that denies entry to individuals and organizations who publicly support boycotting West Bank settlements, we have to cancel our tour. We, who staunchly oppose any boycotts and sanctions of Israel, who call on our supporters to buy Israeli products and to support Israel, find ourselves being boycotted by Israel. We are punished because we believe that the West Bank is not Israel and because we vociferously oppose the Israeli government's facts-on-the-ground actions to de facto annex the West Bank and by doing so annul the prospects for a two-state solution."

Read more: First Jewish-American group cancels trip to Israel over travel ban against boycott supporters
Subcategories