Details

Written by

Sophia Jones

Category: Opposizione israeliana
The Huffington Post, 03/05/2015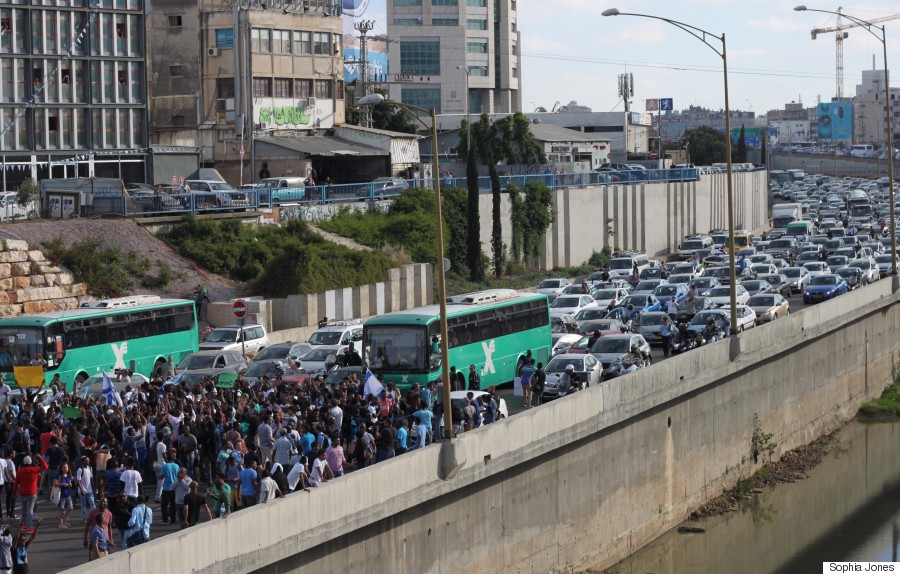 Some protesters, many of whom were Israeli Jews of Ethiopian descent, sat in the middle of large intersections in Tel Aviv, purposely stopping traffic to bring attention to what they say is inherent racism within parts of Israeli society. Others linked arms and led marches down streets, raising their fists and Israeli flags high above the crowd.

Read more: Israelis, Many Of Ethiopian Descent, Stage Mass Protest In Tel Aviv Demanding Equality For All
Details

Written by

David Sheen

Category: Opposizione israeliana
May 1, 2015
Presentation by David Sheen
at the University of Southern Maine
in Portland, ME on March 12, 2015
Details

Written by

Asher Shechter

Category: Opposizione israeliana
Haaretz, 29.04.15
More than eight months after the war that decimated Gaza's civilian infrastructure, killed 2,132 Palestinians (and 72 Israelis) and displaced thousands, the reconstruction is still stalling, according to a report by the Association of International Development Agencies. More than 12,000 homes are still waiting to be rebuilt, and 100,000 people are still homeless.

Read more: Israel sends aid to Nepal, but what about Gaza? On Israel's selective compassion
Details

Written by

Amira Hass

Category: Opposizione israeliana
Haaretz, 04.05.2015
The prosperous country stems from the unwitting dispossession of the indigenous people — unwitting but with its share of cruelty.
"I speak to you as one settler to another" is how I usually start my lectures to the converted, namely audiences who oppose the Israeli occupation (it's my habit to tell listeners things they don't want to hear). My audience members clear their throats, pause and giggle with embarrassment.
Details

Written by

Oudeh Basharat

Category: Opposizione israeliana
Haaretz, 04.05.15
the history of the Israeli-Palestinian conflict shows scarcely any anti-Arab Mizrahi characters. On the contrary, at key junctures it was actually Mizrahi leaders – who constituted a marginal minority – who labored to reduce the level of hostility toward Arabs. In his book "The Ethnic Cleansing of Palestine," Ilan Pappé describes how Eliyahu Sasson – a member of David Ben-Gurion's 12-man "Consultancy" in early 1948 – was the only one to oppose his policies. Sasson objected to the attack on the village of Al-Khasas in December 1947, calling it "barbaric," and requested that the Haganah attack only "hostile" locations. All the other members, most of whom were of European origin, ignored him so eventually he stopped talking. It wasn't the right time for Mizrahi Jews.

Read more: How different would Israel be if Ben-Gurion had come from Yemen?