Details

Written by

Shlomi Eldar

Category: Gaza
Jews for Justice for Palestinians, June 29, 2017

Dr Huyehia: "The depressing thing is that the parents themselves have given up; they have lost all hope to save their children. It's terrible." Photo shows a young girl who has been diagnosed with cancer and her mother at al-Rantisi children's hospital in Gaza City, Gaza, April 6, 2017. Photo by Mohammed Abed/AFP/Getty Images
Gaza's children suffer as Hamas, PA continue conflict
Five Israeli doctors discuss their recent visit to Gaza, where disease is rampant, medication is disappearing and medical patients have given up hope.
trans. Sandy Bloom, Al Monitor
June 29, 2017
Dr. Ra'ad Haj Yehia, a member of the Physicians for Human Rights-Israel (PHRI) organization, returned on June 26 from the Gaza Strip.
Details

Written by

Sarah Algherbawi

Category: Gaza
The Electronic Intifada, 20 June 2017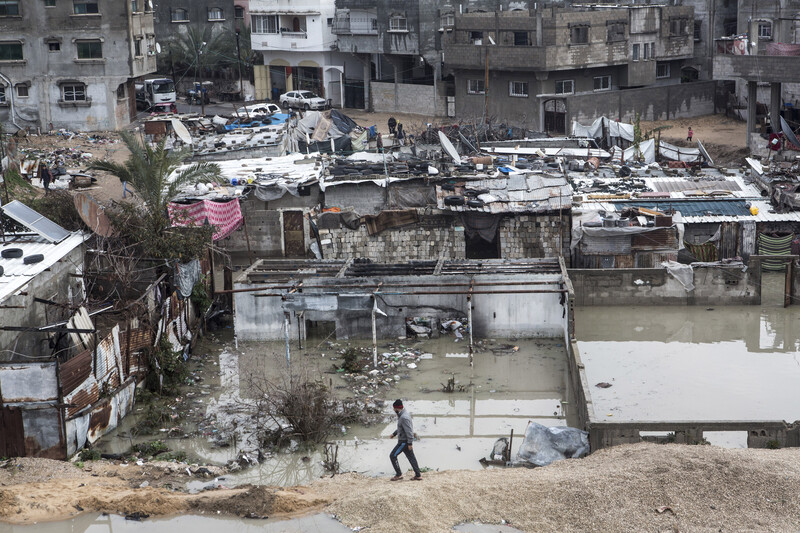 Hiba al-Ashi has to keep the windows of her apartment closed. It is the only way to avoid the foul odors from the polluted sea.
Details

Written by

Michele Giorgio

Category: Gaza
22/6/2017
Clamoroso accordo tra Hamas e l'Egitto grazie all'ex "uomo forte" espulso da Fatah: mano dura con i jihadisti nel Sinai in cambio di gasolio per la Striscia. Aggirate le pressioni di Anp, Israele e Arabia saudita. Il movimento islamico ringrazia, Abu Mazen no
Il Manifesto
L'accordo tra Dahlan e il leader di Hamas Yahya Sinwar rischia di mandare in fumo i piani di Abu Mazen, convinto che i due milioni di abitanti di Gaza, con il peggioramento delle condizioni di vita, si ribelleranno contro gli islamisti al potere. «Un piano che non ha possibilità di successo» spiega l'analista e docente dell'universit

Read more: Gaza, Mohammed Dahlan corre in aiuto degli ex nemici di Hamas
Details

Written by

Umberto De Giovannangeli

Category: Gaza
Huffingtonpost.it, 09/08/2017

Mohammed Salem / Reuters
oggi circa 2 milioni di persone non hanno quasi nessun accesso a servizi essenziali, come acqua corrente e servizi igienici e moltissimi hanno a disposizione solo 2 ore di luce elettrica al giorno.
Details

Written by

Yuval Abraham

Category: Gaza
Middle East Eye, 16 June 2017
Israeli academics, analysts and intelligence sources suggest it has more to lose than gain from the crisis

Fighters from the Ezzedine al-Qassam Brigade, the armed wing of Hamas, at a memorial service for Ibrahim Abu Al-Naja in Rafah (AFP)
Hamas, which has controlled Gaza since 2007, is regarded as a daughter movement of the Muslim Brotherhood, a longtime ally of Qatar.
Read more: What Israel fears about Hamas and the Qatar crisis