Details

Written by

Ali Abunimah and Tamara Nassar

Category: Politiche israeliane
The Electronic Intifada, 19 May 2021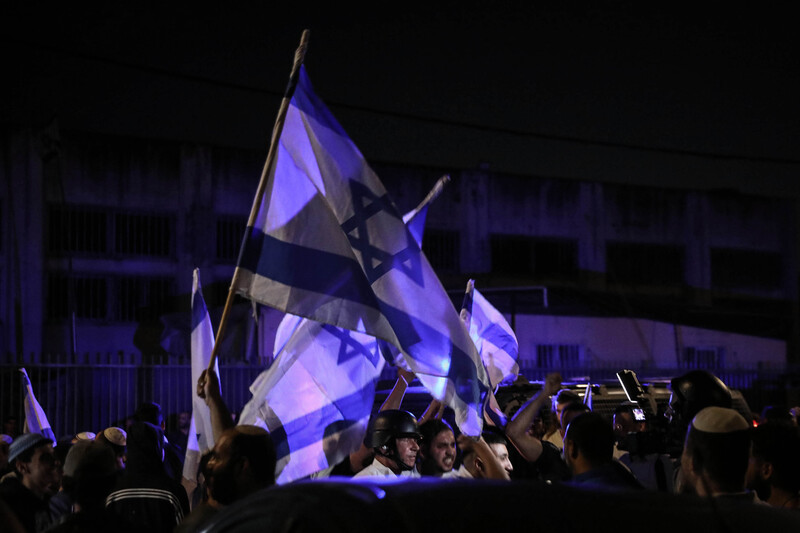 Israeli Jewish extremists wave Israeli flags amid a night-time curfew in the central city of Lydd.
Oren Ziv Picture-Alliance/DPA
Israeli Jewish extremists used instant messaging services to organize armed militias to attack Palestinian citizens of Israel.
Read more: "Today we are Nazis," says member of Israeli Jewish extremist group
Details

Written by

Michele Giorgio

Category: Politiche israeliane
January 18, 2018
Il processo comincerà il 31 gennaio. Lo hanno deciso i giudici militari israeliani che ieri non hanno concesso la libertà su cauzione alla 16enne palestinese arrestata per aver schiaffeggiato due soldati il mese scorso a Nabi Saleh
AGGIORNAMENTI
ORE 12 Amnesty: Israele: rilasci subito Ahed Tamimi
"Nulla che Ahed Tamimi ha fatto può giustificare il proseguimento della detenzione di una ragazza di 16 anni. Le immagini di una ragazza disarmata che schiaffeggia un soldato armato di tutto punto mostrano che quell'azione costituiva una minaccia assai scarsa. Il prolungamento della sua detenzione è oltraggiosamente eccessivo rispetto a un reato modesto e costituisce una misura del tutto inappropriata per una minorenne. Chiediamo alle autorità israeliane di rilasciarla immediatamente". E' questa la dichiarazione di Magdalena Mughrabi, vicedirettrice di Amnesty International per il Medio Oriente e l'Africa del Nord.
Read more: Resta in carcere Ahed Tamimi, simbolo della resistenza palestinese
Details

Written by

Michele Giorgio

Category: Politiche israeliane
January 11, 2018
Lo promettono i ministri israeliani al movimento dei coloni dopo la morte di Shevack ucciso due giorni fa in Cisgiordania dai colpi sparati da un'auto palestinese in corsa
Gerusalemme, 11 gennaio 2018, Nena News – Sono sfociati ieri in un raduno politico i riti funebri per il rabbino-colono Raziel Shevack, dell'avamposto coloniale di Havat Gilad, illegale anche per la legge israeliana oltre che per quella internazionale, ucciso martedì sera da colpi sparati da un'autoveicolo palestinese in corsa.
Read more: Più case negli insediamenti è la "vendetta" per l'uccisione di Raziel Shevack