Details

Written by

NENA-NEWS

Category: Gerusalemme
29/5/2017Secondo il  quotidiano Jerusalem Post che riferisce la notizia, l'evento al quale parteciperà Donald Trump rappresenta una sorta di riconoscimento americano di Gerusalemme capitale unita di Israele
Gerusalemme, 29 maggio 2017, Nena News – La Knesset israeliana e il Congresso americano celebreranno congiuntamente, con un collegamento video in diretta dei due Parlamenti, la cosiddetta "riunificazione di Gerusalemme" avvenuta 50 anni fa durante la Guerra dei Sei Giorni con l'occupazione militare da parte di Israele della zona Est, palestinese, della città. Lo riferisce oggi il quotidiano Jerusalem Post sottolineando che la celebrazione congiunta potrebbe rappresentare un tacito riconoscimento da parte della Casa Bianca di tutta Gerusalemme come capitale israeliana.
Read more: Knesset e Congresso Usa celebreranno insieme la "riunificazione" di Gerusalemme
Details

Written by

Nur Arafeh

Category: Gerusalemme
May 30, 2016
Plans to promote Israeli tourism have gone hand in hand with Israeli-imposed restrictions on the development of the Palestinian tourism industry in East Jerusalem.

Read more: Which Jerusalem? Israel's Little-Known Master Plans - Executive Summary
Details

Written by

Nur Arafeh

Category: Gerusalemme
al-Shabaka, May 31, 2016
Evicting Palestinians Using Urban Planning and the "Law"

 

While Israel works on creating Jerusalem as a business hub that attracts Jews and offers them employment opportunities, the problems faced in East Jerusalem are legion. They include a squeezed Palestinian business and trade sector, a weakened education sector, and a debilitated infrastructure.

Read more: Which Jerusalem? Israel's Little-Known Master Plans
Details

Written by

Charlotte Silver

Category: Gerusalemme
The Electronic Intifada, 12 May 2016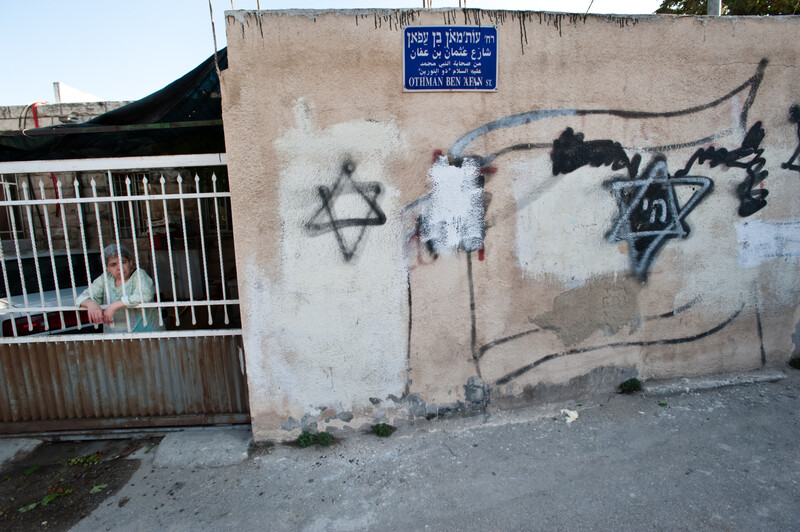 Much of this land had been owned by the Abu Ta'ah family. Until now, they had retained this last slice of property, located between a Palestinian hospital and a main thoroughfare, rented part of it to a car business and turned the rest into a large parking lot.

Read more: How Israel helps settler groups grab Palestinian land
Details

Written by

Yair Ettinger

Category: Gerusalemme
Haaretz, Apr 8, 2017
For the first time the group was allowed to hold the ceremony just a few hundred meters from the Mount − which is administered by a Muslim religious trust

Men conducting a Passover sacrifice near Jerusalem's Temple Mount, April 6, 2017. Emil Salman
It was a reenactment of the Paschal sacrifice, staged by activists seeking to expand the Jewish presence on the Temple Mount and attended by hundreds of right-wing Jewish men, women and children.
Read more: In First, Far-right Jews Sacrifice Lamb Near Temple Mount