Details

Written by

Chiara Rodano

Category: Gerusalemme
Il breve racconto di una convivenza forzata a Gerusalemme Est: due abitazioni adiacenti, il cancello e il vialetto d'ingresso in comune, un piccolo giardino e una casa occupata con la forza dai coloni
documentario e testo di Chiara Rodano
Gerusalemme, 30 marzo 2016, Nena News – "Spesso tornano a casa la notte tardi, completamente ubriachi, urlano e mettono la musica altissima, per disturbarci e non farci dormire. A volte si mettono completamente nudi davanti la finestra di fronte la nostra, e ci insultano, soprattutto a noi ragazze. Sono disgustosi e mia sorella piccola si spaventa". Mona ha un timbro di voce potente, profondo e leggermente roco, che colpisce di fronte ai suoi soli 17 anni.
Read more: VIDEO. "They took your house": viaggio a Sheikh Jarrah
Details

Written by

Nir Hasson

Category: Gerusalemme
Haaretz, Feb. 3, 2017
The police have stepped up nighttime raids on Palestinian homes in parts of East Jerusalem over the past two months – gathering intelligence on an alleged 500 homes, contrary to proper procedures.
Read more: Breaching protocol, police step up nighttime raids on East Jerusalem homes
Details

Written by

Jonathan Cook

Category: Gerusalemme
Middle East Eye, 9 April 2016
Areas like Sawaneh, said Halper, were also the final territorial pieces creating a belt of Jewish control encircling the Old City.

Read more: Israel's 'Bible Trail': Demolishing Palestinian homes to make national parks
Details

Written by

Ramzy Baroud

Category: Gerusalemme
Middle East Monitor, November 14, 2016

Silhouettes of worshippers in front of The Dome of The Rock in East Jerusalem on October 4, 2014 [Salih Zeki Fazlıoğlu/Anadolu Agency]
Now, Israel is trying to ban the call for prayer in various Palestinian communities, starting in Occupied East Jerusalem.

Read more: Praying for Freedom: Why Is Israel silencing the call for prayer in Jerusalem?
Details

Written by

Nur Arafeh

Category: Gerusalemme
Jews for Justice for Palestinians, January 15th, 2017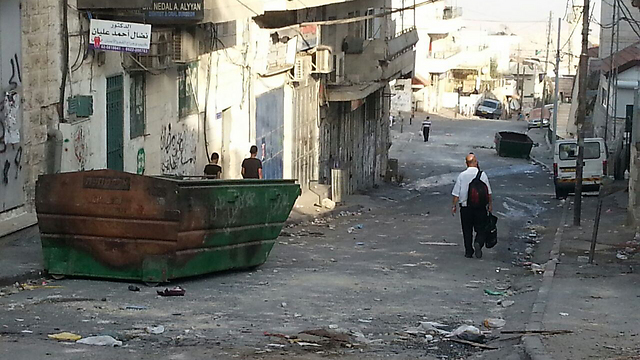 The poverty rate among the East Jerusalem Arab population is about 80%. But West Jerusalem could not survive without this supply of cheap Palestinian labour. Photo by Mohammed Shinawi

Economic Collapse in East Jerusalem: Strategies for Recovery

Al Shabaka
November 30, 2016
[...] This brief by Al-Shabaka Policy Fellow Nur Arafeh focuses on Israel's deliberately engineered economic collapse of East Jerusalem, which renders the city essentially unlivable for Palestinians so as to ensure Jewish control over it [....]