Details

Written by

NENA-NEWS

Category: Europa, USA etc....
January 17, 2018
Secondo un ufficiale americano, dei 125 milioni di dollari dati dagli statunitensi all'Agenzia dell'Onu, Washington ne tratterrà 65. Tel Aviv festeggia, condanna da parte palestinese: "Decisione figlia delle istruzioni di Netanyahu"
Roma, 17 gennaio 2018, Nena News – Dalle minacce di due settimane fa ai fatti: gli Usa tratterranno 65 milioni di dollari destinati all'Unrwa, l'Agenzia Onu creata nel dicembre 1949 per fornire assistenza ai palestinesi fuggiti o cacciati dalla Palestina storica durante la guerra che ha portato alla nascita dello Stato d'Israele.
Read more: Gli Usa pronti a dimezzare i finanziamenti all'Unrwa
Details

Written by

Chiara Cruciati

Category: Europa, USA etc....
January 17, 2018
Salim Vally, professore sudafricano e leader del Palestine Solidarity Committee: «Il sistema israeliano è più sofisticato: si applica in forme diverse alle diverse 'sacche' di palestinesi. E a differenza degli Afrikaners non è così dipendente dalla manodopera araba»
     il Manifesto
Roma, 17 gennaio 2018, Nena News – Da anni attivisti, esperti e ricercatori studiano i parallelismi tra il Sudafrica del dominio Afrikaners e il regime che Israele ha imposto sulla popolazione palestinese. Alla base sta il concetto di apartheid che, seppur con ovvie differenze storiche, è applicato ai due sistemi e che è definito dal diritto internazionale come «regime istituzionalizzato di oppressione sistematica e di dominio di un gruppo razziale su qualsiasi altro gruppo razziale».
Read more: INTERVISTA. «Nei bantustan in Sudafrica un'unica apartheid, in Palestina tante»
Details

Written by

Allison Kaplan Sommer

Category: Europa, USA etc....
Haaretz, Jan 8, 2017
The AFSC's Refugee Division was established after Kristallnacht in 1938 showed that many Jews in Germany were in danger and needed more than just humanitarian relief. This was the division that rescued and assisted more than 22,000 Jews and Christians before, during and after World War II, earning it the 1947 Nobel Peace Prize, together with the (British) Friends Service Council.

Read more: How a U.S. Quaker group that won the Nobel Peace Prize ended up on Israel's BDS blacklist
Details

Written by

Gilbert Achcar

Category: Europa, USA etc....
Jadalyya, Nov 3, 2017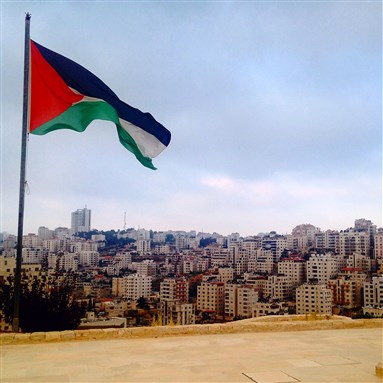 the Zionist project elaborated by Herzl was at its core a design elaborated by an assimilated secular Austrian Jew, aiming at getting rid of poor religious Jews coming from Eastern Europe whose migration to the West had disturbed the existence of their West European co-religionaries. Herzl acknowledged this with striking bluntness in the introduction of his book [....]

Read more: The Zionist Project's Duality: Escaping Racist Oppression and Reproducing It in Colonial Context
Details

Written by

Chiara Cruciati

Category: Europa, USA etc....
January 8, 2018
Il governo israeliano pubblica i nomi di 20 associazioni di tutto il mondo a cui membri sarà vietato l'ingresso nel paese dal primo marzo. L'ultima misura di una serie di concreti attacchi al movimento internazionale. La filiale italiana a Nena News: "Parte di una crescente campagna di intimidazione"
Roma, 8 gennaio 2018, Nena News – La firma è quella del ministro degli Affari Strategici israeliano, Gilad Erdan. La mente è il governo Netanyahu, protagonista di una stretta durissima, ormai iniziata da tempo, nei confronti di individui e associazioni legati al movimento Bds, Boicottaggio Disinvestimento e Sanzioni, in tutto il mondo.
Read more: Boicottaggio, la lista nera di Israele: c'è anche Bds italia