Details

Written by

Ma'an

Category: Cisgiordania
Ma'an News Agency, Dec. 1, 2015
BETHLEHEM (Ma'an) -- Israeli authorities on Monday confiscated 10 tents donated to Palestinians in the Jordan Valley by the International Committee of the Red Cross, Israeli rights group B'Tselem said.
Read more: Israel confiscates ICRC tents from Palestinians in Jordan Valley
Details

Written by

NENA-News

Category: Cisgiordania
Dalla città cisgiordana sarebbe giunto l'uomo che ieri sera ha ferito gravemente a colpi d'arma da fuoco il colono Shaul Nir e in maniera più lieve la moglie. Il Centro israeliano per i diritti umani B'Tselem parla di "punizione collettiva".
AGGIORNAMENTO 
Quattro coloni israeliani sono stati feriti da un'automobile lanciata intenzionalmente contro di loro nei pressi dell'insediamento di Beit Aryeh (Cisgiordania).  Uno dei feriti è in gravi condizioni. L'automobilista, con ogni probabilità un palestinese, è fuggito ed è ricercato dall'esercito israeliano.
—————————————————————————————————————————————————————–
Details

Written by

Jovita Sandaite in al-Rashayda - Photographs: Arturas Morozovas/artmor.lt

Category: Cisgiordania
The Guardian, 27 November 2015
In area C of the Israeli-occupied West Bank, Palestinian families must brave a military firing zone in order to obtain water for their land and livestock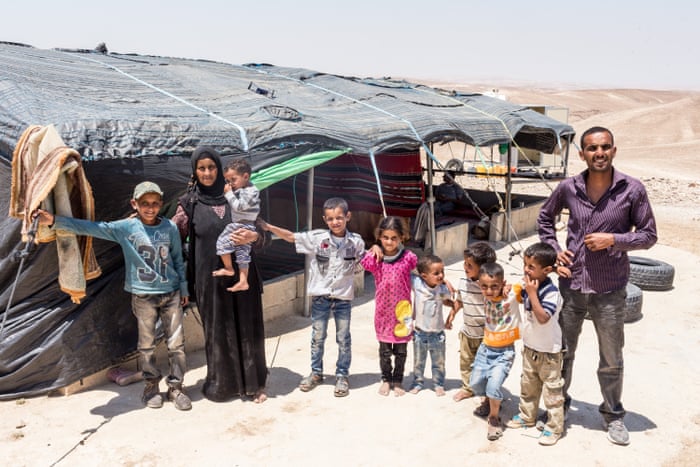 Farhan Ali Awdeh (right) lives in al-Rashayda settlement, south-east of Bethlehem, with his extended family, including his wife, who is pregnant, two sons, his parents and his brother's family – 30 people in all. They live in area C, where Israel retains control of security and land management. Each month, his family uses about 120 cubic metres of water, which includes what they use for their sheep, goats and camels. They pay up to 40 shekels (£6.70) a cubic metre – a sizeable portion of their income [...]
Read more: West Bank water crisis puts Palestinians in firing zone – in pictures
Details

Written by

Amira Hass

Category: Cisgiordania
Haaretz, Sep. 2, 2015
The much publicized video of an Israeli soldier choking a 12-year-old boy show just one way in which the army terrorizes residents of Palestinian villages in order to steal their land.
The soldier who choked 12-year-old Mohammad Tamimi last week belongs to the organization that carries out and ensures the continued armed robbery of land in Nabi Saleh, employing various methods to terrorize the residents. He is not the first and not the last; the armed robbery is not conducted solely on the lands of this village, and the spring at Nabi Saleh is not the only one in the West Bank taken over by Jewish settlers.
Read more: Armed robbery: The Israeli army's policy in the West Bank
Details

Written by

NENA-News

Category: Cisgiordania
Brandivano coltelli ed erano una minaccia immediata, ha detto l'esercito israeliano. Gli incidenti a Tulkarem e Gush Etzion. Sono 102 i palestinesi morti in queste settimane di tensione, di cui oltre 23 minorenni. Sono 19, invece, gli israeliani uccisi in attacchi con coltelli

Roma, 1 dicembre 2015, Nena News –Sale a due il bilancio dei palestinesi morti oggi durante presunte aggressioni. Si tratta di due adolescenti, una ragazza di circa 15 anni uccisa da un soldato israeliano a Tulkarem, e un 16enne freddato da un militare nei pressi della colonia di Gush Etzion, nella Cisgiordania occupata meridionale.