Details

Written by

NENA-News, Chiara Cruciati

Category: Cisgiordania
Attivisti e centri per i diritti umani lanciano l'allarme sulla sorte del villaggio palestinese dal 1986 bersaglio delle politiche di trasferimento forzato della popolazione.
Susiya (Cisgiordania), 16 luglio 2015, Nena News – Domenica scorsa una delegazione di 50 abitanti del villaggio di Khirbet Susiya (a sud di Hebron) ha incontrato alti funzionari del COGAT, dell'Amministrazione Civile e dell'esercito. I funzionari hanno dichiarato che le pressioni dell'organizzazione "Regavim" e dei coloni insediati nella loro zona hanno portato alla decisione di distruggere il villaggio al più presto, anche prima dell'udienza dell'Alta Corte  di Giustizia chiamata il mese prossimo ad esaminare il ricorso contro la demolizione. Lo riferiscono con allarme i centri Betselem e Rabbini per i Diritti Umani.
Details

Written by

NENA-News

Category: Cisgiordania
Nonostante lo stesso premier Netanyahu avesse bloccato l'espansione di Givat Eitam, Jewish National Fund e Amministrazione Civile hanno proseguito nella confisca di terre palestinesi e nella costruzione di case per coloni.
Betlemme, 15 luglio 2015, Nena News – Con gli occhi del mondo puntati sull'Iran e con le orecchie confuse dalle grida del governo israeliano terrorizzato dall'accordo tra 5+1 e Teheran, le autorità di Tel Aviv ne approfittano per proseguire nelle attività quotidiane nei Territori Occupati.
Read more: CISGIORDANIA. La macchina coloniale israeliana ormai corre senza pilota
Details

Written by

Francesca Borri

Category: Cisgiordania
Mondoweiss, 09 July 2015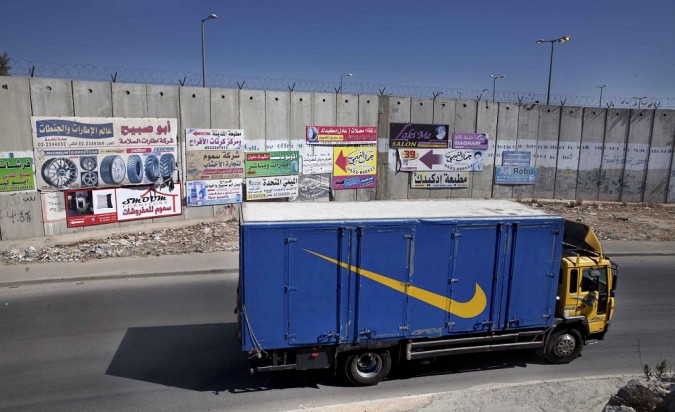 "There are less checkpoints than in the past, it's true, and now anyway searches and inspections are minimal," Shir Hever explained, an economist who studies the West Bank because of its odd prices. Hever found the cost of living is 30% higher in the occupied Palestinian territory than Israel, even though per capita income is 20% lower. [...] Palestinians endure longer routes on highways because they must bypass settlements when getting place to place. [...] Hever wrote, "The real aim is unpredictability. [...] [Y]ou can be stopped, you can be arrested at any time under any pretext. [...] [Y]ou never know if you will finally arrive or not, and when. [...]"
Details

Written by

Chaim Levinson

Category: Cisgiordania
Haaretz, Jul. 5, 2015
IDF turning blind eye as settlers take over private land to expand communities for reserves or agriculture.
Read more: Settlers using West Bank security zones to expropriate Palestinian land
Details

Written by

NENA-News

Category: Cisgiordania

10 giu 2015


 
Izz al-Din Walid Bani Gharra aveva 21 anni. E' stato colpito al petto da cinque proiettili durante l'irruzione dei militari nel campo. Dall'inizio dell'anno sono dodici i palestinesi morti e 900 i feriti



 
Roma, 10 giugno 2015, Nena News – Un 21enne palestinese è stato ucciso all'alba di oggi nel campo profughi di Jenin, in Cisgiordania, durante un blitz dell'esercito israeliano.
Read more: CISGIORDANIA. Blitz dei soldati israeliani a Jenin: ucciso un palestinese