Détails

Écrit par

StopAuCommerceAvecLesColonies

Catégorie : Europa, USA etc....
L'Union européenne s'oppose à l'annexion et considère les colonies illégales dans les territoires occupés comme un obstacle à la paix et à la stabilité internationales. Alors que les colonies illégales constituent un crime de guerre, l'UE autorise le commerce avec elles. Ce commerce permet de tirer profit de l'annexion et contribue à l'expansion des colonies illégales dans le monde. Nous demandons une loi européenne qui mettra fin une fois pour toutes au commerce avec les colonies illégales. Cette loi s'appliquera à tous les territoires occupés, y compris le territoire palestinien occupé et les colonies illégales israéliennes. Elle enverra également un signal fort dans le monde entier : l'UE ne récompensera plus les agressions territoriales par le commerce et les profits.
Détails

Écrit par

Ilan Baruch and Alon Liel

Catégorie : Opposizione israeliana
GroundUp, 8 June 2021
Sharon expressed great interest in South Africa's bantustan project [....]

The bantustans of South Africa under the apartheid regime and the map of the occupied Palestinian territories today are predicated on the same idea of concentrating the "undesirable" population in as small an area as possible, in a series of non-contiguous enclaves. By gradually driving these populations from their land and concentrating them into dense and fractured pockets, both South Africa then and Israel today worked to thwart political autonomy and true democracy.
Détails

Écrit par

Rete ebrei contro l'occupazione, Associazione per i diritti umani www.peridirittiumani.com

Catégorie : Rete-ECO
November the 19th, 2017
Open letter condemning Israeli Supreme Court's decisions making way for the expulsion of 750-1,000 Bedouin residents in the north of the Jordan Valley.
We, the Italian network of Ebrei Contro l'Occupazione (Jews Against the Occupation), call on European Union governments, and especially our own Italian Government, to take a strong position against Israel's policy of ethnic persecution, which includes the planned expulsion of  Bedouins living in the northern Jordan Valley villages of Ein el-Hilweh and Al Maleh to enable the construction of a Jewish town on land located in part of the Israeli occupied West Bank known as Area C, currently under full Israeli administrative and security control.
Détails

Écrit par

.

Catégorie : Een Andere Joodse Stem
30 October 2018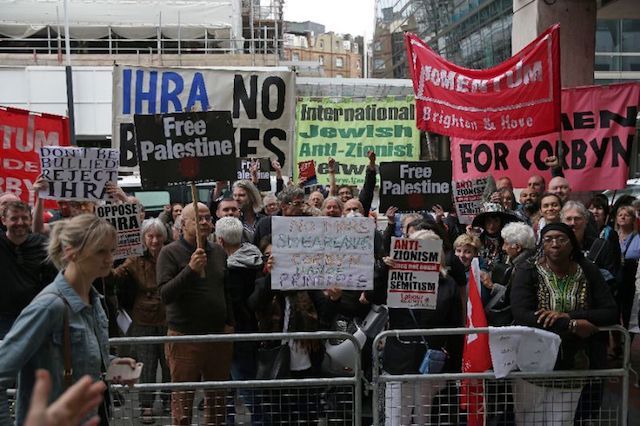 As Jewish European organizations committed to the elimination of anti-Semitism, xenophobia, Islamophobia and all other forms of racism, we would like to voice our deepest concern regarding the organization of a conference in Brussels (6-7 November 2018), backed by the Israeli government, aiming to label legitimate criticism and protest against Israeli governmental policies as anti-Semitism. We ask the European institutions, including the European Commission, the Fundamental Rights Agency (FRA), and members of the European Parliament, and to shun attempts by the Israeli government to use false allegation of anti-Semitism to limit and criminalize work by civil society organizations, including those of diverse Jewish communities of Europe, to pursue peace and justice in Israel/Palestine.
Lire la suite : Public statement by Jewish European organizations on the definition and elimination of anti-Semitism
Détails

Écrit par

Daniel Blatman

Catégorie : Opposizione israeliana
Haaretz, Nov. 13, 2017
"Israel knows the situation in Myanmar better than international organizations and the media. Both sides are committing war crimes. The current situation began after Muslims attacked positions of the Burmese army," said Israel's deputy consul general in New York, Amir Sagie, responding to accusations that Israel sells arms to a regime that is committing horrific war crimes against the Rohingya, a helpless ethnic and religious minority.