Détails

Écrit par

Sharif Nashashibi

Catégorie : Politiche israeliane
Al Jazeera, 6 May 2016
Israel rejects all forms of resistance (armed and peaceful) to its occupation and colonisation of Palestine, which is approaching half a century - the longest military occupation in modern history.
Détails

Écrit par

Amira Hass

Catégorie : Opposizione israeliana
Haaretz, Mar. 3, 2017
Is it proportionate to bomb the town of Kochav Ya'ir, where top commanders and political officials live, when its residents are asleep or eating dinner with their families? That's a horrid question that has no right to be asked. But Israel long ago gave an affirmative answer to the general question: Is it proportionate to crush neighborhoods and bomb homes with entire families in them – children, elderly people, women and babies?
Lire la suite : Illegitimate targets on both sides of Israel's border
Détails

Écrit par

Michael Lesher

Catégorie : Jewish Voice for Peace
Chronique de Palestine, 03 octobre 2016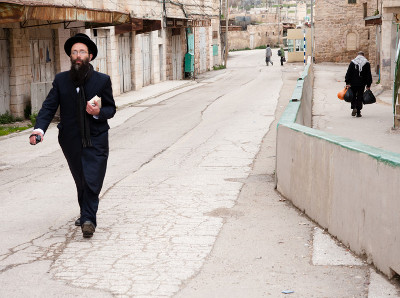 Un Palestinien et un colon israélien marchent chacun d'un côté d'une barrière en béton dans la ville de Hébron - Février 2012, Cisjordanie occupée occupée - Photo : Ryan Rodrick Beiler ActiveStills
quand avons nous entendu pour la dernière fois les principaux rabbins orthodoxes d'Israël – ou d'ailleurs en l'occurrence – protester contre le vol systématique des biens d'autres personnes ? C'est à dire, contre l'occupation de la Cisjordanie ?
Détails

Écrit par

Philip Weiss

Catégorie : Dissidenza ebraica
Mondoweiss, March 3, 2017

Panel at J Street on saving Israel from occupation. Tony Klug is second from left. Jessica Montell is at right. Photo from Ben Murane's twitter feed
if Israel does not end the occupation sharply, and if organized Jewish opinion in other countries appears openly to back it, there will indeed almost certainly be a further surge in anti-Jewish sentiment, potentially unleashing more sinister impulses.

Lire la suite : Israel's neverending occupation is bringing 'infamy' to Jews worldwide, making Jewish life...
Détails

Écrit par

Barnaby Raine

Catégorie : Europa, USA etc....
A Medium Corporation, Jan 19, 2017
Labour Friends of Israel adorns itself in the slogan "For Israel, For Palestine, For Peace" while opponents of BDS on campus proclaim an interest in building "bridges" not "walls". This is hardly Netanyahu's language; he is the man who hurries voters to the polls with nakedly racist warnings that Arabs are voting too while his ministers openly call for genocide against Palestinian mothers who give birth to "little snakes".