Détails

Écrit par

Rete ebrei contro l'occupazione, Associazione per i diritti umani www.peridirittiumani.com

Catégorie : Rete-ECO
28 giugno 2017
Gent. dott. Santoro, nella sua trasmissione di giovedì 22 giugno molti dei suoi ospiti si sono scandalizzati quando un giovane di origine marocchina, presente fra il pubblico in studio, ha affermato che quello in atto da anni contro i palestinesi è un genocidio. Forse il giovane ha usato un termine improprio anche se la definizione di "genocidio", coniata dalle Nazioni Unite nel '48, gli darebbe ragione. Tuttavia non ci interessa in questo momento soffermarci a polemizzare su un termine quanto, purtroppo, riaccendere la sua attenzione, e quella del suo pubblico, su quanto sta succedendo ancora una volta a Gaza, preda di una gravissima crisi provocata dal taglio di energia da parte di Israele, suo maggiore erogatore.
Détails

Écrit par

Rete-ECO

Catégorie : Rete-ECO
June the 23rd, 2017
The Report on Antisemitism in Italy in 2016 (Rapporto sull'antisemitismo in Italia nel 2016), published by CDEC's Observatory on Antisemitism makes for sobering and disturbing reading – obviously, for its description of the persistence of anti-Jewish prejudice in Italy, but also for its own prejudice and negative generalisations with regard to those critical of the State of Israel and the political ideology of Zionism, with particular reference to the political tactics of boycott, divestment and sanctions (BDS). Guilt by association, characterising the beliefs and acts of an entire group by those of a few individuals, denying and/or playing down discrimination and persecution – these are the very things that CDEC and the Observatory on Antisemitism should be fighting, rather than condoning and
promoting.
Lire la suite : Comment on the CDEC Report on Antisemitism 2016
Détails

Écrit par

David Rosenberg

Catégorie : Dissidenza ebraica
Jews for Justice for Palestinians, April 20th, 2017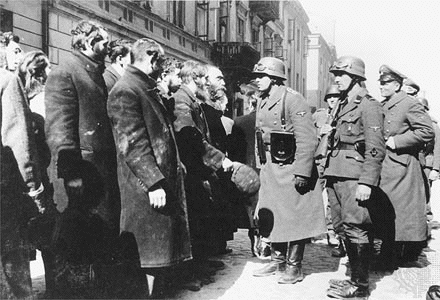 One of the most famous pictures of the Holocaust. German storm troopers force Warsaw ghetto dwellers of all ages to move, hands up, during the Warsaw Ghetto Uprising, April 1943
"We fought for dignity and freedom, not for territory, not for a national identity"
Rebel Notes
April 18, 2017
Before you go to sleep tonight, take a few moments to reflect on what happened in Warsaw in the early hours of 19 April 1943. That was when troops and tanks of the most powerfully equipped army in the world – the German Nazis – entered the Warsaw Ghetto to burn the ghetto buildings to the ground, massacre the remaining inhabitants, or deport them to death camps. At one time the ghetto, comprising just 1.3 square miles, had held more than 400,000 people – almost all Jews, but also several hundred Roma Gypsies. By April 1943 the inhabitants still numbered 30-40,000 – starved, diseased, beaten – but still holding on to life, just.
Détails

Écrit par

Ori Weisberg

Catégorie : Dissidenza ebraica
Haaretz, May 31, 2017
Suddenly, my left arm was wrenched behind me, wrist twisted, and pushed so high that my fingers were above my left shoulder blade. My hat came off and I screamed in pain. As a veteran of a combat unit, I am familiar with pain. But I could not tell if my shoulder was still in its socket or if my arm was breaking.

Lire la suite : For Jerusalem's Police, Jews Defending Palestinians Are Human 'Garbage'
Détails

Écrit par

Richard Falk

Catégorie : Dissidenza ebraica
AURDIP, 8 mai
Un petit champ de bataille dans une grande guerre culturelle
| Global Justice in the 21st Century |Richard Falk, Traduction CG pour l'AURDIP |Autres ressources

Il y a quelques semaines, mon livre Palestine's Horizon : Toward a Just Peace [Horizon de la Palestine : vers une paix juste] a été publié par Pluto en Grande-Bretagne. Je me trouvais alors à Londres et en Écosse pour une série de conférences universitaires afin de soutenir le lancement du livre. Il se trouve que sa publication coïncidait avec celle d'un rapport, rédigé en collaboration et commandé par la CESAO, la Commission économique et sociale pour l'Asie occidentale des Nations Unies, ce qui a donné à mes apparitions publiques une importance qu'elles n'auraient pas eu autrement. Le rapport concluait que les preuves relatives aux pratiques israéliennes vis-à-vis du peuple palestinien attestaient d'une situation d'« apartheid », tel qu'il est défini par le droit international.

Lire la suite : La nouvelle guerre d'agression culturelle d'Israël
Sous-catégories