Détails

Écrit par

Samah Salaime Egbariya

Catégorie : Società civile palestinese
Haaretz, Oct 27, 2016
despite the clear preference given to Jewish citizens and the persisting oppression and discrimination toward the Palestinians, we were all required to say thank you for being allowed to stay here rather than being sent off to join the Palestinian national picnic.

Lire la suite : We won't worship the Zionist golden calf. Deal with it
Détails

Écrit par

Emanuele Di Nicola

Catégorie : Società civile palestinese
Book Ciak Magazine, 12 febbraio 2017
"Ghost Hunting" di Raed Andoni presentato nella sezione Panorama. Il regista arabo ricostruisce l'esperienza – vissuta personalmente appena 18enne –  dei palestinesi imprigionati nelle carceri israeliane: tra torture fisiche e psicologiche, gli ex detenuti ricreano il carcere come un set, interpretando torturati e torturatori. Uno spiazzante gesto umano e politico. Che ha già incassato l'entusiasmo di Ken Loach…
Venire arrestati, torturati e poi rimettere in scena la propria prigionia. È un dispositivo spiazzante quello di Ghost Hunting, il film di Raed Andoni presentato nella sezione Panorama alla Berlinale 2017. Il regista arabo porta al Festival i dolori del suo popolo, i palestinesi detenuti nelle prigioni israeliane per motivi politici. Lo fa attraverso un cortocircuito tra realtà e rappresentazione: partendo da un ex prigioniero poi rilasciato, che ha passato 19 giorni in una stanza senza dormire, la ricostruzione si basa sulla sua testimonianza insieme ad altre voci.
Lire la suite : Dalla Palestina con dolore, l'orrore delle carceri israeliane spiazza la Berlinale
Détails

Écrit par

Amira Hass

Catégorie : Società civile palestinese
Haaretz, Feb 19, 2017
After two Jews, Betar resident David Cohen and Kiryat Arba resident Yehezkel Moalem, were murdered on the road leading from Kiryat Arba to Hebron's Old City in July 2001, the Jabaris were forbidden to enter and work their land, harvest olives, plow, plant or let their animals graze there. The illegal structure put up on their land was built in 2003. The entry and cultivation ban was rescinded in 2007, only after the attorney Labib Habib petitioned against it.

Lire la suite : A Palestinian farmer just wanted to work his land. He got an army raid instead
Détails

Écrit par

Nahum Barnea

Catégorie : Società civile palestinese
ynet, 19.01.17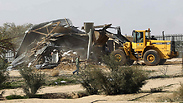 Bulldozers in Umm al-Hiran. 'We guard them, and they kick us out'
Photo: AFP
"You see the two Baggers up there?" Yasser Abu al-Qiyan asked. There were two yellow excavators parked peacefully at the top of the hill. They had been rented to prepare the area for a new Jewish community called Hiran, which would be built alongside the ruins of Bedouin community Umm al-Hiran.
Détails

Écrit par

Rashid Khalidi

Catégorie : Società civile palestinese
The New Yorker, January 19, 2017