Détails

Écrit par

Michele Giorgio

Catégorie : Gerusalemme
22/7/2017
Parla l'analista Uraib al Rintawi: il governo israeliano punta a dividere la Spianata delle moschee ma le sue politiche aggressive a Gerusalemme frenano la "normalizzazione" con i Paesi arabi
Sulle ragioni delle proteste palestinesi e le implicazioni in Medio Oriente della crisi a Gerusalemme e delle politiche del governo Netanyahu, abbiamo intervistato l'analista arabo ed editoralista del quotidiano al Dustour, Uraib al Rintawi [....]
Lire la suite : INTERVISTA. "La spartizione di al Aqsa è un processo già in atto"
Détails

Écrit par

Valérie Nivelon, Marion Lefèvre

Catégorie : Gerusalemme
RFI, 10-06-2017

L'esplanade du Mur des Lamentations a remplacé le quartier des Maghrébins.
« Ce soir-là, ils ont demandé aux gens qui vivaient juste à côté du Mur des Lamentations d'évacuer leurs maisons. Ils n'ont eu que deux heures, et les bulldozers ont entamé la démolition », raconte Haïfa Khalidi, témoin oculaire de l'événement, depuis sa terrasse surplombant l'esplanade du Mur des Lamentations. Cependant, quand les soldats israéliens entrent de force dans sa maison familiale en juin 1967, cette vaste place n'existe pas encore. Elle est créée en une nuit et achevée le 11 juin au matin par quinze entrepreneurs du bâtiment israéliens, mandatés dans le plus grand secret par le maire d'Israël, Teddy Kollek.

Lire la suite : Jérusalem 1967: la destruction du quartier des Maghrébins
Détails

Écrit par

Nur Arafeh

Catégorie : Gerusalemme
May 30, 2016
Plans to promote Israeli tourism have gone hand in hand with Israeli-imposed restrictions on the development of the Palestinian tourism industry in East Jerusalem.

Lire la suite : Which Jerusalem? Israel's Little-Known Master Plans - Executive Summary
Détails

Écrit par

NENA-NEWS

Catégorie : Gerusalemme
29/5/2017Secondo il  quotidiano Jerusalem Post che riferisce la notizia, l'evento al quale parteciperà Donald Trump rappresenta una sorta di riconoscimento americano di Gerusalemme capitale unita di Israele
Gerusalemme, 29 maggio 2017, Nena News – La Knesset israeliana e il Congresso americano celebreranno congiuntamente, con un collegamento video in diretta dei due Parlamenti, la cosiddetta "riunificazione di Gerusalemme" avvenuta 50 anni fa durante la Guerra dei Sei Giorni con l'occupazione militare da parte di Israele della zona Est, palestinese, della città. Lo riferisce oggi il quotidiano Jerusalem Post sottolineando che la celebrazione congiunta potrebbe rappresentare un tacito riconoscimento da parte della Casa Bianca di tutta Gerusalemme come capitale israeliana.
Lire la suite : Knesset e Congresso Usa celebreranno insieme la "riunificazione" di Gerusalemme
Détails

Écrit par

Charlotte Silver

Catégorie : Gerusalemme
The Electronic Intifada, 12 May 2016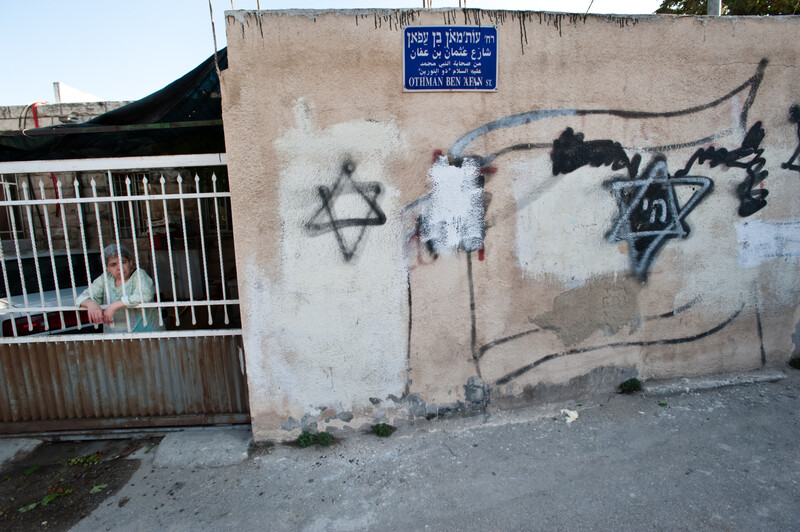 Much of this land had been owned by the Abu Ta'ah family. Until now, they had retained this last slice of property, located between a Palestinian hospital and a main thoroughfare, rented part of it to a car business and turned the rest into a large parking lot.

Lire la suite : How Israel helps settler groups grab Palestinian land