Détails

Écrit par

Zvi Bar'el

Catégorie : Egitto
Haaretz, Sep. 14, 2016
An analysis of the causes of Egypt's economic crisis cannot overlook the enormous losses the country incurs due to the army's control of the economy.
Détails

Écrit par

NENA-News

Catégorie : Egitto
Ahmed Medhat morto per emorragia mentre si trovava in custodia da un solo giorno. La famiglia chiede un'inchiesta. Resta in prigione anche Ismail Khalil, torturato da un anno, nonostante l'ordine di rilascio
Roma, 1 settembre 2016, Nena News – La macchina della repressione guidata dalla polizia egiziana non si ferma. Mentre l'Italia aspetta il nuovo incontro a Roma tra la Procura italiana e gli inquirenti egiziani sul caso Regeni previsto per l'8 settembre, al Cairo un altro giovane è morto nelle mani dei poliziotti.
Détails

Écrit par

MEMO, The Algemeiner, PC

Catégorie : Egitto
The Palestine Chronicle, Jul 29, 2916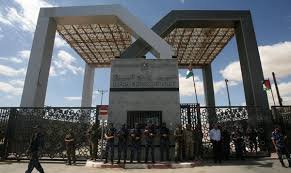 GAZA Egyptian authorities closed the Rafah crossing between Egypt & Gaza Strip last night. 3000 managed to cross.
Israeli Prime Minister, Benjamin Netanyahu, yesterday praised the warm relations with Egypt and President Abdel Fatah Al-Sisi.
Lire la suite : Netanyahu Praises Sisi For Peace Efforts in the Middle East
Détails

Écrit par

Noor el-Terk

Catégorie : Egitto
Middle East Eye, 18 June 2016
While the Egyptian president maintains that the youth are Egypt's hope and future, actions speak otherwise and a lot more loudly
"We're living the impossible, the unthinkable," the parent of 15-year-old Mohamed Imad tells me.

Electrocuted, whipped, beaten on his face, jumped on his back; the list of horrors is unending as his father fights to keep tears out of his voice.

Lire la suite : The children are in danger: Welcome to 'the kids' Guantanamo' of Egypt
Détails

Écrit par

Amina Ismail and Declan Walsh

Catégorie : Egitto
The New York Times, Jan. 26, 2016
Police special forces on patrol in Giza. "Enforced disappearance" has become increasingly prevalent as the government widens its crackdown on opponents. Mahmoud Khaled/Agence France-Presse — Getty Images
CAIRO — After the security forces raided the home of Islam Khalil, a 26-year-old salesman, last summer, he seemed to vanish without a trace.
Lire la suite : Hundreds Vanishing in Egypt as Crackdown Widens, Activists Say