Home
Dettagli

Scritto da

Gideon Levy

Categoria: Opposizione israeliana
Haaretz, Apr 20, 2017

Israeli forces firing tear gas toward Palestinian protesters during clashes in the West Bank town of Bethlehem, April 17, 2017. AHMAD GHARABLI/AFP
I assume, Moshe, that if they were to lock you in a cage for years, you would continue your Rotary membership and refuse to back a struggle against your incarceration. I assume, Orna, that if foreign soldiers were to burst into your home in the middle of the night and arrest your Moshe before your eyes, kick him, force him to his knees, blindfold him, handcuff him, and beat him in front of your children who study in Eli – and then snatch him from your home for months without trial – you would be looking for some "creative leadership" for your people.
Dettagli

Scritto da

Sharif Nashashibi

Categoria: Politiche israeliane
Al Jazeera, 6 May 2016
Israel rejects all forms of resistance (armed and peaceful) to its occupation and colonisation of Palestine, which is approaching half a century - the longest military occupation in modern history.
Dettagli

Scritto da

Amira Hass

Categoria: Opposizione israeliana
2 marzo 2017, Haaretz
E' proporzionato bombardare la città di Kochav Ya'ir, dove vivono comandanti in capo e dirigenti politici, mentre i residenti stanno dormendo o cenando con le loro famiglie? Questa è un'infame domanda che non ha diritto di essere posta. Ma Israele molto tempo fa ha dato una risposta affermativa alla domanda generale: è proporzionato distruggere quartieri e bombardare case con dentro famiglie intere – bambini, anziani, donne e neonati?
Leggi tutto: Obiettivi illegittimi su entrambi i lati del confine israeliano
Dettagli

Scritto da

Philip Weiss

Categoria: Dissidenza ebraica
Mondoweiss, March 3, 2017

Panel at J Street on saving Israel from occupation. Tony Klug is second from left. Jessica Montell is at right. Photo from Ben Murane's twitter feed
if Israel does not end the occupation sharply, and if organized Jewish opinion in other countries appears openly to back it, there will indeed almost certainly be a further surge in anti-Jewish sentiment, potentially unleashing more sinister impulses.

Leggi tutto: Israel's neverending occupation is bringing 'infamy' to Jews worldwide, making Jewish life...
Dettagli

Scritto da

Michael Lesher

Categoria: Jewish Voice for Peace
The Electronic Intifada, 22 September 2016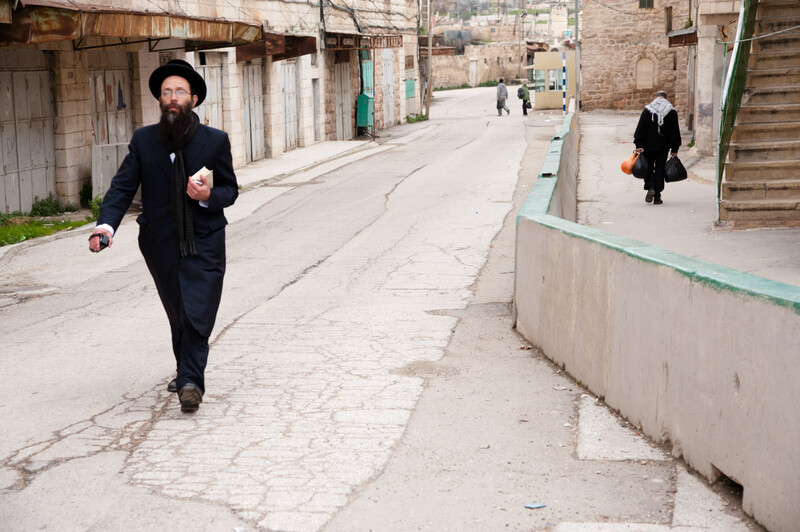 A Palestinian and an Israeli settler walk on opposite sides of a concrete barrier in the occupied West Bank city of Hebron, February 2012.
Ryan Rodrick Beiler ActiveStills
when was the last time anyone heard a complaint from any of the major Orthodox rabbis in Israel — or anywhere else, for that matter — about the Israeli government's systematic theft of other people's property?