Dettagli

Scritto da

Amira Hass

Categoria: Opposizione israeliana
Haaretz, 11.05.15
The justices have allowed the state to demolish these two Palestinian communities, which are just 25 kilometers (15.5 miles) apart, but are separated by Israel's 1967 border, the Green Line. On May 4, Justice Noam Sohlberg allowed the state, the Israel Defense Forces and the IDF Civil Administration to demolish Sussia's tents, tin shacks and livestock pens as they see fit. The community petitioned against the Civil Administration's decision to reject the master plan it had prepared, and what would be more natural than to stop home demolitions while the hearing of its case was still going on? But without a hearing, Sohlberg rejected the request filed by the community's representatives – lawyers of Rabbis for Human Rights – for an interim injunction suspending implementation of demolition orders.
Dettagli

Scritto da

Oudeh Basharat

Categoria: Opposizione israeliana
Haaretz, 11.05.15
They are living for 60 years in the location the state allotted to them. How can you argue once again that the expulsion is taking place during a war, and roll your eyes and say that in war there are inevitably refugees? How can you blame the Arab leaders for supposedly calling on the village residents to leave until they destroy the Zionist entity, and how can it be said that the residents of Umm al-Hiran didn't want Jews near them, so they deserve to be evacuated? After all, the village residents are willing to live with the Jews.
Dettagli

Scritto da

Activestills

Categoria: Opposizione israeliana
+972, May 3, 2015
Joint List chairman MK Ayman Odeh was one of the only public figures to make the connection between the various struggles against police violence directed at specific racial or ethnic groups in Israel.

Leggi tutto: Ethiopian-Israelis' protest against police violence is met with police violence
Dettagli

Scritto da

Neve Gordon

Categoria: Opposizione israeliana
The London Review of Books, 4 May 2015
The soldiers say that the ground troops had instructions to kill any person within range.
from http://www.lrb.co.uk/2015/05/04/neve-gordon/the-day-after?utm_source=LRB+online+email&utm_medium=email&utm_campaign=20150421+online&utm_content=ukrw_subsact&hq_e=el&hq_m=3741398&hq_l=9&hq_v=807c2345cd
Dettagli

Scritto da

Sophia Jones

Categoria: Opposizione israeliana
The Huffington Post, 03/05/2015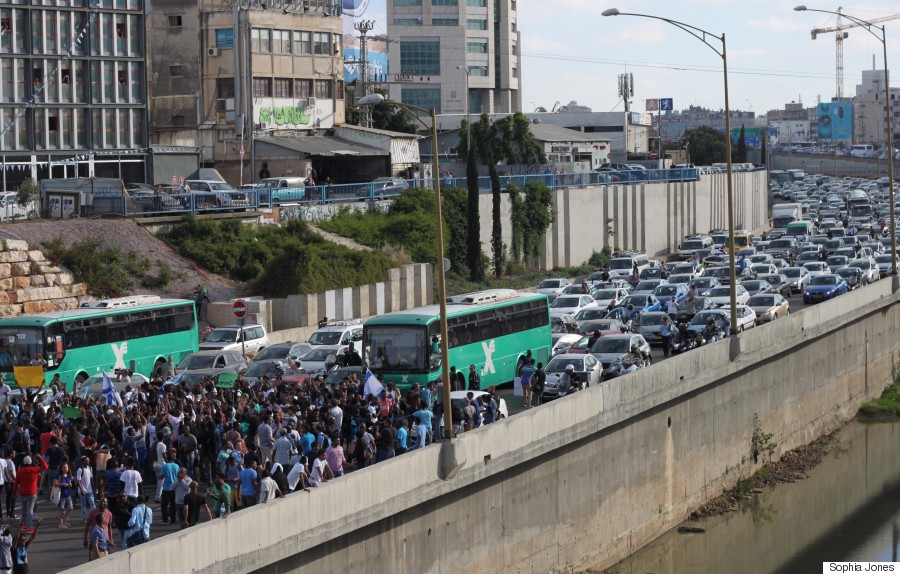 Some protesters, many of whom were Israeli Jews of Ethiopian descent, sat in the middle of large intersections in Tel Aviv, purposely stopping traffic to bring attention to what they say is inherent racism within parts of Israeli society. Others linked arms and led marches down streets, raising their fists and Israeli flags high above the crowd.

Leggi tutto: Israelis, Many Of Ethiopian Descent, Stage Mass Protest In Tel Aviv Demanding Equality For All